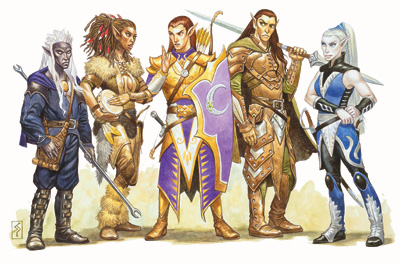 Elves are known for their poetry, song, and magical arts, but when danger threatens they show great skill with weapons and strategy. Elves can live to be over 700 years old, and by human standards are slow to make friends and enemies, and even slower to forget them. Elves are slim and stand 4 1/2 to 5 1/2 feet tall. They tend to be pale-skinned and dark-haired with deep green eyes. They have no facial or body hair, prefer comfortable clothes, and possess unearthly grace. Many other races find them hauntingly beautiful.
When selecting the elf race, it is required to select one of the following subraces:
External links
Edit
Ad blocker interference detected!
Wikia is a free-to-use site that makes money from advertising. We have a modified experience for viewers using ad blockers

Wikia is not accessible if you've made further modifications. Remove the custom ad blocker rule(s) and the page will load as expected.